ENTERPRISE PORTAL DEVELOPMENT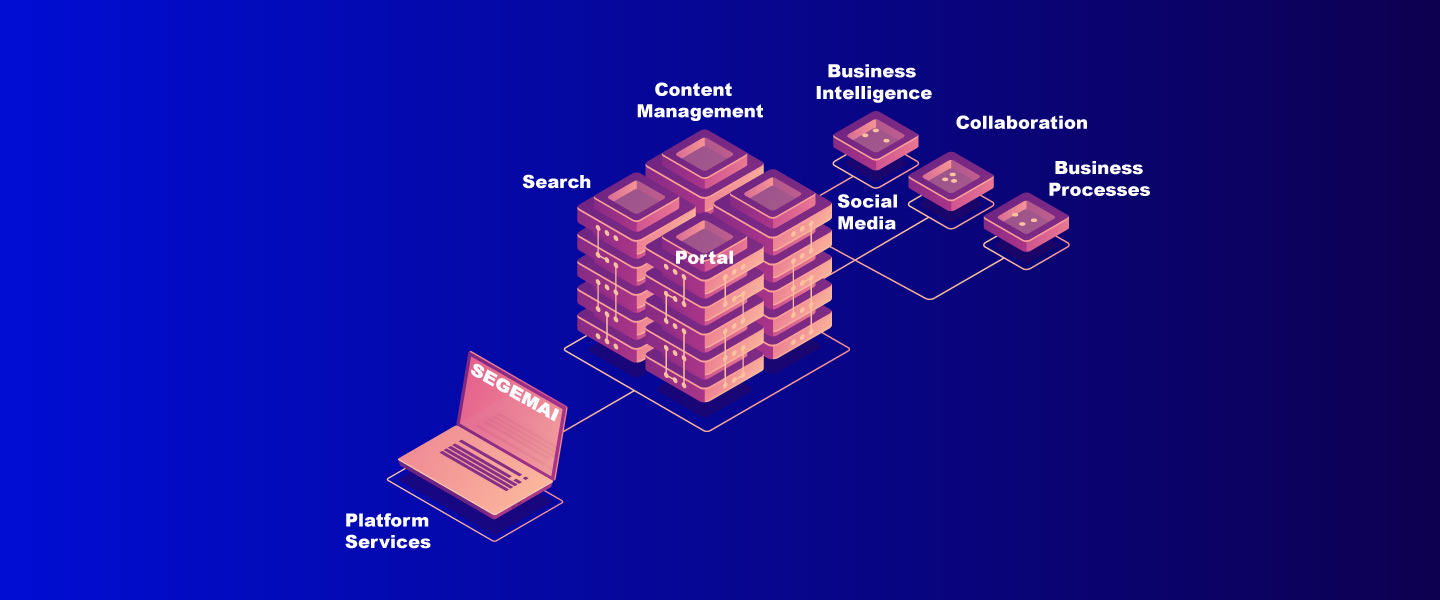 Does your organization have many web applications and interfaces created during whole these years, or a pile of legacy systems and content sources that cannot talk to each other?
Are you facing any of the following problems?
Search multiple documents in many places for the desired one

Have disjointed and diverse content delivery systems, but the need for one

Lack Web 2.0 capabilities like blogs/wiki/content tagging/Forums and social media

Lack effective collaboration between different applications

Have content delivery not based on user's level of access (ACL)

Lose employee productivity due to excess time spent on multiple applications for doing tasks
Choose our Enterprise Portal solution now! Our enterprise portal solutions are on the lines of the SAP Enterprise Portal solutions.
Segemai helps you find strong collaboration and social networking solutions to meet your business and customer demands. Enjoy a consolidated content delivery system, which can also collaborate with or replace your existing legacy applications. We provide a single, comprehensive environment that connects diverse users, legacy processes, and disparate content types. We help our customers create valuable collaborative relationships that were previously impossible. We extend proprietary applications and connect people with information.
Segemai portal server expertise
Segemai has experts in the latest commercial enterprise portal servers , as well as robust and community popular open source portal servers, like:


Vignette portal server

Oracle WebLogic portal server

Liferay portal server

JBoss portal server
Portal design and implementation
Our portal experts help you evaluate your existing portal platforms and then create a well thought-out plan for smooth migration.
Our enterprise service portal implementation methodology begins with:
Discovering what you already have in place,
Determine the next level where you should be at,
Provide a well supported Delivery plan
Let Segemai show you how to reach to the next level.
Is your current enterprise information portal platform outdated, or you need more functionalities?
Are your vendors ceasing support for the older version of your portal system?
Are you looking to consolidate multiple heterogeneous web applications for a better user experience?
If yes, then you need to upgrade your existing portal systems or switch to a new portal platform with better features.


Segemai evaluates your future needs and helps you determine if you need a portal upgrade or switch.
We do this through a methodical series of Analyze->Compare->Decide steps. Our experts also help you identifying and correcting problems with your portal, and make architectural improvements to make portal more stable, reliable and perform better.
Organizations aiming to generate a considerable value with their portal infrastructure, should consider hooking up their portal solutions to a good content management system. This would provide best of both worlds: a system where your authors can create contents with full flexibility, and another system to deliver content to multitude of devices, while being mostly independent of each other. It also enables mixture of contents and existing applications on one portal page.
Segemai helps your organization choose both kinds of (portal and content management) systems, and integrates them together so you can leverage full potential of both systems.
If you already have many legacy applications running in isolation, you can integrate them together through a portal system, to provide your users a unified view which increases their productivity significantly. Our consultants will do all that is needed to bring your legacy systems together via a portal server.